Tim Wilson
Professional Archer
Minneapolis, MN, USA
tim@timwilson.info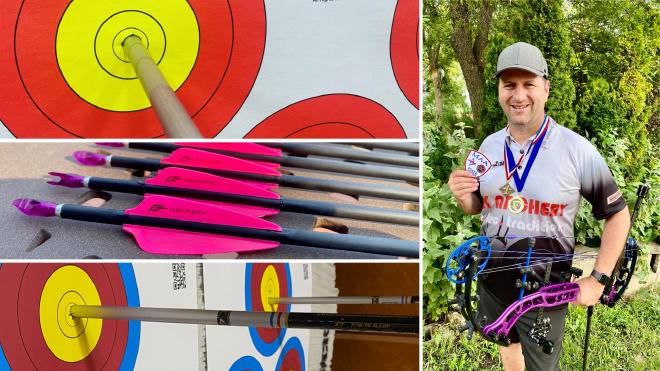 Background #
Tim started in archery in March of 2013 after deciding that watching his son shoot at JOAD was a lot more boring than getting a bow and shooting himself. Since then he's become an avid archer and has earned his Level 3 coaching certificate from USA Archery. Now he's the head coach at Rapids Archery JOAD.
In April, 2015 Tim was selected as president of the Minnesota Archers Alliance (MAA). The MAA is one of two statewide archery organizations in Minnesota and holds the charters for USA Archery, the National Field Archery Association (NFAA), and S3DA. Under Tim's leadership, the MAA developed an innovative state record tracking system as well as a new way to quantify archery performance as part of the MAA's "Shooter of the Year" program.
Tim got his NFAA pro card in October, 2021.
Sponsors #
Affiliations and Memberships #
Current Equipment #
Equipment
Brand
Bow
OK Archery Absolute 42 (indoor)
OK Archery X-Energy 39 (outdoor)
Sight
Shibuya Ultima CP Pro
Scope
UltraView UV3
Rest
Beiter (indoor) and Hamskea Epsilon (outdoor)
Stabilizers
UltraView
Release
UltraView Button and Hinge 2
Arrow shafts
Easton 2712, 2315, and ProComp
Fletching
Flex-Fletch FFP-360 and FFP-225
Nocks
Beiter Hunter
Strings
GAS Freakshow
Rangefinder
Leupold RX-1000i
Binoculars
German Precision Optics (10×42)
Current Minnesota State Records #
NFAA Senior Pro Indoor Round
NFAA Senior Pro Vegas Round
NFAA Senior Field Round (14 targets)
NFAA Senior Field Round (28 targets)
NFAA Senior Pro Hunter Round (14 targets)
NFAA Senior Pro Hunter Round (28 targets)
NFAA Senior Pro Animal Round (14 targets)
NFAA Senior Pro Field Round (14 targets)
NFAA Senior Pro Field Round (28 targets)
USA Archery Master 50+ 18 Meter Indoor Round
MSAA Field Round (14 targets)
Competition Results #
2023 MAA Male Compound Shooter of the Year
1st place 2023 MAA/USA Archery Voyageur Cup (Master)
1st place 2023 MAA/USA Archery North Star Open (Master 50+)
1st place 2023 MAA/NFAA State Field Archery Championship (Senior Pro)
2nd place 2023 MSAA State Field Archery Championship (Adult Freestyle Open)
2nd place 2023 MSAA State Target 900 Championship (Adult Freestyle Open)
1st place 2023 MAA/USA Archery 25-Meter Championship (Master 50+)
1st place 2023 MAA/USA Archery 18-Meter Championship (Master 50+)
1st place 2023 NFAA Midwest Indoor Sectional (Senior Pro)
5th place 54th USA Archery Indoor Nationals (Master 50+)
1st place 2023 MAA/NFAA State Indoor Championship (Senior Pro)
2nd place (tie) 2023 MAA All State Vegas (Senior)
2nd place 2022 MAA North Star Open (Masters)
3rd place 2022 MSAA State 3D (Adult Freestyle Open)
1st place 2022 MAA/NFAA State Field Championship (Senior Pro)
3rd place 2022 MSAA State Field (Adult Freestyle Open)
2nd place 2022 NFAA Midwest Outdoor Sectional (Senior Pro)
1st place 2022 MSAA State 50 Meter Championship (Adult Freestyle Open)
2nd place 2022 MSAA State Target 900 Championship (Adult Freestyle Open)
1st place 2022 MAA/NFAA State Indoor Championship (Senior Pro)
1st place 2022 MSAA State Indoor Championship (Adult Freestyle Open)
1st place 2022 MAA 25-Meter Indoor Championship (Master 50+)
1st place 2022 MAA 18-Meter Indoor Championship (Master 50+)
3rd place 2022 NFAA Midwest Indoor Sectional (Senior Pro)
5th place 2022 Iowa Pro-Am (Senior Pro)
1st place 2021 Minnesota Senior Games
1st place 2021 MAA North Star Open (Master 50+)
1st place 2021 MAA/NFAA State Field Championship (Senior)
1st place 2021 MSAA State Field Championship (Senior)
1st place 2021 MSAA State Target 900 Round Championship (Senior)
4th place 2021 MSAA State 50 Meter Championship (Senior)
12th place 2020 USA Archery National Indoor Championship (Master 50+)
3rd place 2019 North Star Open (Master 50+)
2nd place 2019 Voyageur Cup (Master 50+)
1st place 2019 MAA 25-Meter Championship (Master 50+)
9th place 2019 USA Archery National Indoor Championship (Master 50+)
2nd place 2019 NFAA Indoor Sectional (Senior)
1st place 2018 MAA Minnesota Outdoor Championship (Master 50+)
3rd place 2018 Voyageur Cup (Master 50+)
2nd place 2018 MAA/NFAA Minnesota Field Championship
9th place 2018 USA Archery National Indoor Championship (Master 50+)
3rd place 2017 Voyageur Cup
4th place 2017 MAA MN Outdoor Championship
1st place 2016 MAA/NFAA Minnesota Field Championship
1st place 2016 Voyageur Cup
2nd place 2016 MAA MN Outdoor Championship
2nd place 2016 MAA/NFAA Minnesota Indoor Championship
3rd place 2015 MAA/NFAA Minnesota Field Championship
2nd place 2015 MSAA 900 Target Championship
3rd place 2015 MN Outdoor Championship
1st place 2014 MAA/NFAA Minnesota Field Championship
4th place 2013 Minnesota Outdoor FITA Championship
4th place 2013 Voyageur Cup